Open Door Homes was incorporated in 2006 by its founding partners, Jeff and Kevin Meador. Specializing in basement finishes, decks and patios, home additions and kitchen and bathroom remodels, Open Door Homes brings over 30 years of combined experience to every job. Striking out on our own just before the housing and building crash of 2007, we have manged to not only survive, but steadily grow our business each year. Our committment to honesty, integrity and craftsmanship has earned us the gratitude, respect and recommendation of our clients. Here are a few of the things that set us apart:
The Bidding Process
When we bid a job, we present you with a detailed analysis of what the job will cost, based on the specifications that you provide and our real-world experience. We do NOT present you with artifically low numbers to win a job and then count on multiple change orders to inflate our bottom line. As a result, we are generally not the lowest bid. Strangely enough, we hear time and time again that Contractor X's dramatically low bid ended up turning into a final price higher than what we bid the job at! We believe in integrity and for us that means we bid jobs based on our best estimate of what the final cost will be.
In-House Design
With Computer Aided Design Software capable of 3-D modeling, we can put together multiple options for your project on the fly, without having to coordinate with a separate designer. It's convenient and ultimately saves our customers money. Have a specific designer or architect you want to work with already? No problem! We do that too.
Values
Flashy sales pitches are nice, but when it comes down to your addition or remodel project, you want to hire someone that you can talk to, work with and feel good about. We understand that this is your home and we treat each of our customers with dignity, respect and care. Not only is it good business, it's just the right thing to do.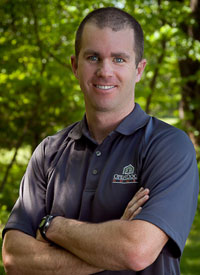 Kevin Meador is the older of the two brothers and he never lets Jeff forget it. After becoming a certified framer in 1998, Kevin framed high-end homes in some of the most prestigious areas of the Kansas City metro. He then moved into a job as a superintendent for another builder, sometimes managing up to 25 projects simultaneously. Kevin can hammer, saw, nail and chisel with the best of them, but he also has an artistic side. In his spare time, Kevin likes to trade in his nail gun for a digital camera and, ever the entrepreneur, started Open Shutter Photography in 2010. Kevin's artistic talents serve him well in the building industry and he handles all the design work. He has especially enjoyed exploring 3-D modeling within their CAD software and how it can really help clients visualize what a project will look like.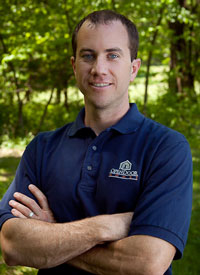 Jeff Meador refuses to let his "younger brother" status limit his accomplishments. With a Business degree from Calvin College, Jeff is the "brains" of the operation and if necessary can always remind his brother who controls the checkbook. Jeff is no slouch on the jobsite, either, bringing years of building experience of his own to the company. In fact, he built his own house, just for fun. His eye for efficiency and knack for details allowed him to consistently exceed his bosses' expectations in previous jobs and ultimately provided the push to go into business with his brother. With the down economy demanding creativity on the business side of things, Jeff led the way to establishing Open Door Properties, a property management and real estate investment company.